Our Products
UBrace.com is a division of Furniture Leisure Inc. and is the manufacturer of UBrace® and U2Brace® - Brace assembly for outdoor umbrellas.
UBrace Brace assembly for an umbrella with a 1 1/2 inch pole used with a heavy table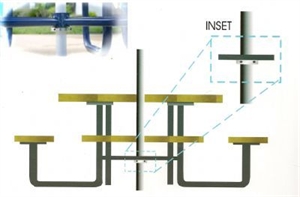 The UBrace® solves an age old problem with umbrellas used with tables. They like to fly once in a while and cause drama and damage. Three inch aluminum collar with stainless steel Fastners. The UBrace eliminates the need for an umbrella base and is the perfect solution to secure your umbrella to a heavy table (70 Pound +) that uses a centering hole for keeping the umbrella upright. This product is only available from Furniture Leisure. Once the UBrace assembly is in place you never have to worry about the umbrella coming out of the table. US 7,549,430 B1.
The UBrace, manufactured by Furniture Leisure Inc., is designed to anchor a 1 ½ inch umbrella pole to a heavy table. This eliminates the need for a heavy cumbersome umbrella base. The device is simple to use and requires no maintenance.
Instructions to install the UBrace:
1: Insert the umbrella pole into the table and through the centering ring in the cross brace.
2: Open the UBrace by taking out the two bolts on each side of the ring assembly.
3: Attach the UBrace to the umbrella pole just beneath the centering ring on the table by placing each half of the ring assembly around the umbrella pole. Insert the bolts; tightening them with the allen wrench provided. Tighten the bolts evenly until the collar will not move on the pole.
4: You are finished!
Note: The two halves of the collar do not have to meet to be tight and correctly installed. If the pole can be physically pulled out of the table it must be tightened until the pole is fixed and will not slide out. Call 1-800-213-2401 with questions.
Parts List: Ubrace includes one 3/16" Allen wrench and one polished high grade AA6351 Aluminum Collar with stainless steel bolts. Patent: US 7,549,430 B1.
Latest News
May 31, 2005

UBrace® Brace assembly for an umbrella with a 1 1/2 inch pole used with a heavy table.

Nov 5, 2009

U2Brace® Umbrella Brace for use with a table and umbrella to prevent flying umbrellas.